Funds Raised by the Paul Mitchell School Network ...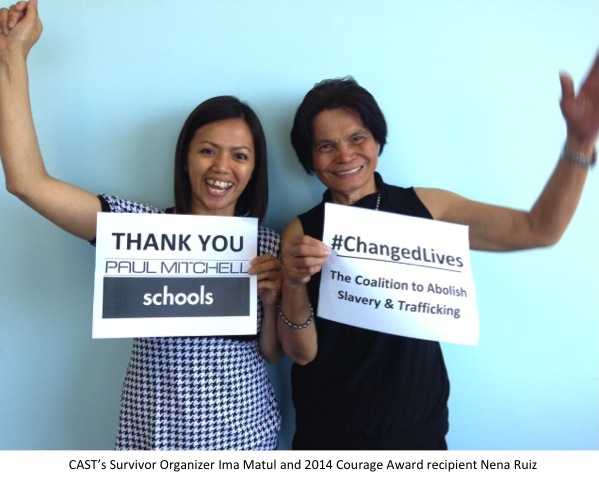 Participating Paul Mitchell Schools have raised over $24 million to benefit a variety of causes that team members and students are passionate about. Our primary recipient is the nonprofit Andrew Gomez Dream Foundation, which provides advanced education opportunities and support for cosmetology students, professionals, and cosmetology-related enterprises, as well as other charitable purposes, and helps us donate to the charities of our choice.
Through the Andrew Gomez Dream Foundation, we've donated over $2.3 million to help cancer-related charities such as Fran Drescher's Cancer Schmancer, Pancreatic Cancer Action Network, City of Hope, Bright Pink, Eyes on Cancer, and the American Cancer Society. We've also donated $1.4 million to support memory loss caregivers and families through Leeza's Care Connection, founded by Leeza Gibbons in honor of her mother.
We've donated over $835,000 in support of animal health and rescue, including $75,000 for American Humane Association, founded in 1877 as the country's first national humane organization; $520,000 to Morris Animal Foundation, whose investments in scientific studies have led to significant breakthroughs in diagnostics, treatments, and preventions to benefit animals worldwide; and $240,000 to Best Friends Animal Society, whose mission is to make every shelter and community no-kill by 2025.
Our efforts have supported organizations in putting roofs over people's heads. We've donated $350,000 to help Habitat for Humanity build safe, affordable homes and we've raised over $1 million to help the Gary Sinise Foundation support our nation's defenders, veterans, first responders, and their families through numerous programs, including the R.I.S.E. program, which builds specially adapted smart homes for our most severely wounded heroes.
In support of organizations that empower the Black community, we've donated $115,000, including $85,000 to United Negro College Fund (UNCF); $15,000 to 501cTHREE, which provides safe water to communities in crisis; and $15,000 to Boris Lawrence Henson Foundation, founded by Taraji P. Henson to improve access to mental health services for Black communities.
In the fight against sex trafficking and slavery, we've contributed $703,000 to organizations working to help trafficking victims in Cambodia, India, and Honduras, as well as the U.S.-based Coalition to Abolish Slavery and Trafficking (Cast), which provides comprehensive services to survivors and a platform to advocate for groundbreaking policies and legislation.
Because of our passion for helping children, over $1.6 million of the funds we've raised have helped Children's Miracle Network Hospitals provide 32 million treatments in 170 member hospitals each year to kids across the U.S. and Canada; over $1 million to help No Limits provide auditory, speech, and language training for children who are deaf or hard of hearing; $1.3 million to help Food 4 Africa distribute more than 30 million meals to starving children and educate their caregivers on the preparation and necessity of good nutrition; and $150,000 to Dolly Parton's Imagination Library, which has given more than 199 million free books to young children.
Our $657,500 contribution has helped Thirst Project provide safe, clean water for hundreds of thousands of people for the rest of their lives! Our $52,500 donation to Legacy Youth Leadership provides free education programs and leadership training to low-income students and future beauty and cosmetology professionals, helping them succeed in their academic and professional careers, obtain mental health support, improve as entrepreneurs, and build a better world.
In support of the beauty industry, $260,000 of our contributions went to the Professional Beauty Association's Disaster Relief Fund to help cosmetologists and cosmetology students in the wake of hurricanes, wildfires, and other natural disasters; $100,000 went to Beauty Changes Lives, to provide scholarships for future beauty professionals; and $285,000 went to Franciscan Haircuts from the Heart, to provide free hair care to those who might not otherwise be able to access these services. Our $100,000 donation plus hands-on support from participating Paul Mitchell Schools helps Ebeauty deliver free, refurbished wigs to cancer patients.
In addition to raising money for our national charities, many franchised Paul Mitchell Schools include local charities in their FUNraising campaigns, raising money for their community's animal rescue shelters, mental health organizations, crisis centers, rescue missions (such as Fred Jordan Mission in Los Angeles' skid row), children's clubs and camps, shelters for victims of domestic violence, Homeboy Industries (Los Angeles-based gang rehabilitation and re-entry program), Make-A-Wish, Ronald McDonald House, and hundreds of other local causes that our school leaders and students are passionate about.
Along with the millions of dollars donated, participating students and team members volunteer thousands of hours each year in support of hundreds of local and national charitable organizations. Examples include offering beauty services to senior centers, nursing homes, women's shelters, caregivers, and veterans and their families; organizing charity runs; and countless other activities and events.